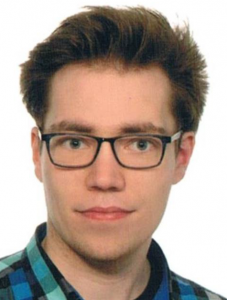 Curriculum VitaeContact
:
Building 39 ("Cyfronet"), room 160
ul. Andrzeja Sołtana 7
05-400, Otwock, Poland
tomasz.hanusek@ncbj.gov.pl
+48 693 915 717
PhD Topic: Transient coupled calculations for the DFRm
Supervisor: prof. Rafael Juan-Macian (Head of Nuclear Engineering Division (NTech) at the Technische Universitaet in Munich, Germany)
The task is to make coupled calculations for the metallic 250 MWth DFR, burn-up calculations, solution for keeping constant the working temperature and reactivity. The coupled neutron and thermal-hydraulic degrees of freedom codes such as connected Park and Trace codes should be used or just newly written. This will help to make a computer model of the DFRm.
Seminars and conference talks:
Transient calculations for the DFRm . 26.05.2019, Otwock, NCBJ, Division of Nuclear Energy and Environmental Studies
Transient calculations for the DFRm. 25.04.2019, Szczecin, Workshop on Perspectives of Dual Fluid Reactor Technology
State of the art of innovative reactors based on The 2019 Frédéric Joliot / Otto Hahn Summer School on Nuclear Reactors. 17.12.2019, Otwock, NCBJ, Division of Nuclear Energy and Environmental Studies
Modeling of circulating fuel reactors based on the Molten Salt Reactor Experiment. 07.04.2020, Otwock, NCBJ, Division of Nuclear Energy and Environmental Studies
Publications:
M. Bielewicz, T. Hanusek et al.: Transmutation Measurements Level in Accelerator-driven Subcritical Systems (ADS). Acta Phys. Pol. B Proc. Suppl. 11, 751 (2018)
Courses:
Nuclear reactors – Dr. O. Dorosh
Fundamentals of reactor physics – prof. W. Gudowski
Numerical methods in high-temperature nuclear engineering – Dr. S. Potempski
Reactor physics of HTR-s – prof. J. Cetnar